Spring is here and with it come christenings and celebrations.This is a very special day, for both the baby and the rest of the family,and among other decisions that need taking, one of the most important is choosing the right clothes for our little one. Should we go for a traditional look or should we dare to use something a little more casual? Don't miss a stitch of today's post!
The baby dress
The traditional long dress is the most commonly chosen garment for these occasions, more specifically when the baby is aged from 6 to 8 months, as it provides a touch of eleganceand tenderness.
In our "ATARDECER" collection we have the perfect outfit for success – a long-sleeved white dress with cream-coloured details. There is bee's nest on the front, and beautiful contrasting lace on the neck, sleeves and bottom.
We have also designed a matching bonnet to make it smarter and a matching knitwear cardigan with mother-of-pearl buttons.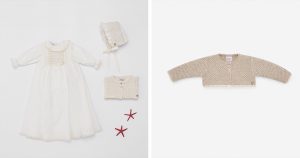 A less traditional option
If a long baby dress doesn't convince you, there are numerous options to choose from without forgetting the elegance required on such a special day. What's more, this option has the advantage that we will be able to use the clothes for other occasions.
Classic cuts hold sway here, in romper suits, dresses and bodysuits – all of them in nude colours, such as white, sand and cream.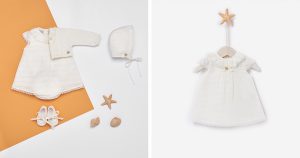 Our PAZ and ATARDECER collections fit in perfectly with this choice, where the clothes are designed in the latest fashion but still have the love, care and know-how that characterize us. We give special emphasis to the details like lace, frills and bows.
One of the options we suggest for girls is the Look PAZ 010, perfect for an occasion like this one. The dress, with matching bloomers, is made of fabric with a beautiful frill on the neck and lace finishing, just like on the sleeves and bottom. We have combined it with a knitwear cardigan which has a pattern on the cuffs and bottom. The front button is handmade crochet work and there is a bow on the back, which gives it a distinctive and authentic touch.
And what about the boys?
We haven't forgotten about the boys, the princes of our house! Once again we have chosen a look from the PAZ collection. It consists of a short-sleeved shirt with subtle pleats and a baby neck. On the front there are four mother-of-pearl buttons, which give it a sophisticated touch. The matching linen trousers have pocket flaps and a button on the waist.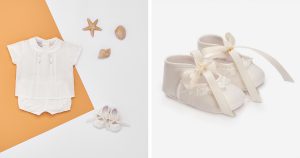 Both looks come with our favourite little shoes, with matching lace and bow, ideal for any kind of ceremony.
What do you think of our suggestions? You can find a lot more to fall in love with on our web site and at our sales points.