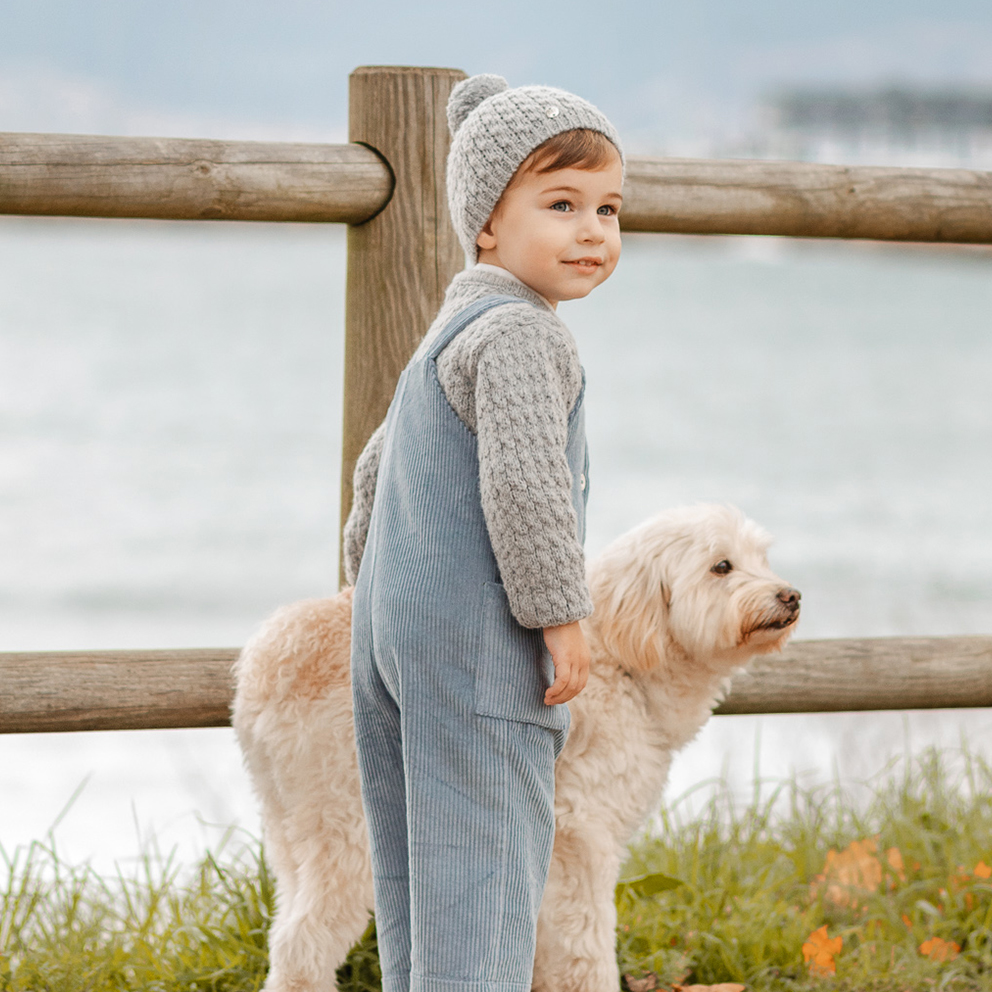 HOW TO SHOP
Shopping at www.pazrodriguez.com is very simple:
Choose a section (babies, boys, girls or childcare) and visualize the looks. You can filter looks by the colours and sizes available. If you use the Category filter (type of garment) you will be able to see the individual garments you are interested in.
Choose the look or product you are interested in. If you click on the image you will be able to see the details of the look or product. If you move the mouse over the images it will enlarge the photograph so you can see the details. In the right-hand margin of each product you can check the description, composition, how to look after it, price, and the sizes and colours available.
Select a size and add the look or product to your shopping cart. You can then choose to keep on shopping or process your order. You can place an order without having to register or open a session.
If you are not yet registered, please fill in your details and you can then use them for your purchase. Please check all the data is correct.
Don't forget to click on the "gift" option if you want to.
Choose a delivery method. Registered users can have their orders sent to a pick-up point.
Select a payment method.
Confirm your order.
You will receive an e-mail confirming your order.
You will be able to check on your order status with the tracking number which the transport company will send you by e-mail. If you are a registered user, you will also be able to check your order status in My Account (My Orders).
By using the contact form you will be able to ask us about any doubts you may have about your orders or products, and return or exchange them. You can also get in touch with us at shop@pazrodriguez.com
SHIPPING
The delivery period is approximately 7 working days. If the order is for more than USD 150 shipping is free.Orders received after 11am will be processed the day after. If you place the order on Friday after 11am, it will be processed the flowing Monday
FREE RETURNS
It is free to return a product. Returns must be made within 30 days of the date of purchase. We will send a carrier to pick up the order at the address you provide us with. You do not have to print any labels to send the products.
SENDING A GIFT
Before completing your order you can choose the gift option. You can personalize your order with a message, send it to an address as a surprise or have it delivered at home so you can then deliver it in person.
SHIPPING
Standard shipping costs are USD 24.90. If your order is for USD 150 or more, shipping is free.
Where can I receive my order?
You can have your order sent to the address you choose within Spain. This address could be your own, that of the person you are sending a gift to, your workplace, your temporary place of residence... If you are a registered user, in addition to enjoying possible future offers and advantages, you can choose to pick your order up at any post office. Deliveries are not made to PO boxes
Can goods be delivered to a different country from the one they are ordered in?
Orders can only be delivered in the continental United States and any country in the European Union, except for Spain and Portugal.
How long will it take for my order to arrive?
The delivery period varies in accordance with the delivery address.
Approximate delivery of 7 working days.
FREE RETURNS
How can I return goods?
In order to return goods you should check that the article is in perfect condition and packed, and that no more than 30 days have elapsed since the date of purchase. Our team will make things easier for you to return goods as quickly as possible. You should request a pick-up by using the store's contact form. After we verify that the return is within the deadline, we will send you a label for you to print and place on the package.
How can I change goods?
In order to change goods you should return the item you wish to change and then buy the right model or size again.
How long do I have to return goods?
The deadline for all returns is 30 days from the date of purchase.
Do I have to pay anything to return an order?
Returns within the deadline are always free. We will send a transport agent to pick up the return at no cost to you.
How will the money be returned?
Once we have received the goods at our warehouse we will check that it is in perfect condition and includes all the labels. You will then receive the money back via the same payment method you used for the purchase. If you paid shipping costs to receive the goods, these costs will not be reimbursed.
What should I do if the amount returned is incorrect?
If you think that the amount returned is not the right one you can get in touch with us by using the contact form at the online store or send us an e-mail to shop@pazrodriguez.com. Our customer service will try to solve the problem as soon as possible. pazrodriguez.com reserves the right to reject returns notified or sent after the established deadline, and returns of goods that are not in the same condition as when they were received.
SENDING A GIFT
The Send a gift option is totally free. The gift will be sent wrapped in silk paper in our special customized PAZ Rodríguez box, protected on the outside by a top-quality bag.
It is really easy for you to customize your order and have it sent directly to your friends and family:
Choose the look or garment(s) you want to give as a gift and add them to your shopping cart
Key in the address where the gift should be delivered. It could be your own address or that of the person who the gift is for.
In the summary screen of your shopping cart you will see the option "Is this a gift?" If you click on this you will see a roll-down menu to write an unforgettable message. We will then print your personal message on a gift card which will be delivered together with your order.
The order will be delivered at the address selected. Please check delivery periods in the SHIPPING section.
PAYMENT METHODS
The following payment methods can be used: Visa, Visa Electron, Mastercard, Maestro and Paypal. If you use Paypal as your payment method a cost of USD 5.50 will be added to your order. Should you have any doubts about the safety of our website for payment with a bank card, we would like to remind you that our site is totally safe. The data on our website is SSL encrypted. For payments with Visa and Mastercard we only accept SES (Safe Electronic System) transactions. After verifying that the card forms part of the safe system, the system contacts the issuing bank so that the buyer can authorize the purchase. When the bank confirms authenticity, the card will be charged. If the bank does not provide authorization, the order will be cancelled.