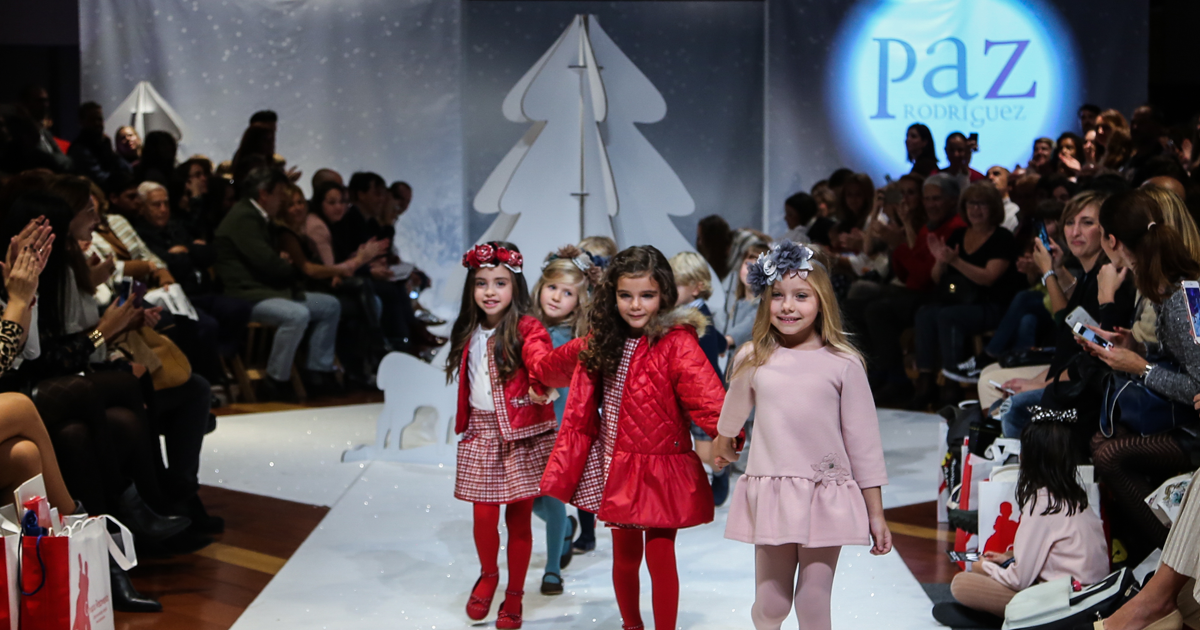 This weekend we took part in one of the most important children's fashion events in Spain. After our success at last year's parade, this year we were up on the Petit Style Walking catwalk again, filling it with the magic and sweetness of our proposals for this autumn and winter. We're going to tell you all about our adventure, stitch by stitch. Keep on reading!
The scenario chosen for discovering the latest trends in children's fashion for this autumn and winter was the Goya Hall at the Real Fábrica de Tapices in Madrid. The decoration was inspired by a beautiful snow-covered wood that created an idyllic landscape to see the children parade with the different collections.
The fairy godmother and mistress of ceremonies for this wood that had become a catwalk was the ever-pleasant María Castro. The actress from Galicia presented each collection in turn with her own natural touch that won over everyone present.
The children paraded with great grace and spontaneity, while two dances – ballet at the beginning and modern dance at the end – put the icing on the cake and all made for an unforgettable evening.
Once again the whole event was a great success, and full to the brim. There were numerous mums and dads who wanted to see children's fashion for the season in person, and we also saw various benchmark mum-bloggers, such as  La Casita de Martina and De CharcoenCharco.
Petit Style Walking also showed great solidarity by selling rucksacks, proceeds from which went to the charity AyudaenAcción, thereby helping many children in our country who go hungry to have three square meals a day.
Paz Rodríguez's proposals at Petit Style Walking
On this occasion we selected eight sweet and casual looks with a wide variety of colours, from the pastel tones of our most candy and romantic line to deeper colours like red and navy blue, via green and brown, creating a magical wood full of contrasts. Our collection stands out from the rest thanks to the quality of the materials and the love and care we put into each detail.
On 5 November you can see more ideas at another Petit Style Walking, this time at the Colon market in Valencia, for which we have also prepared a really special collection.
Fashion and solidarity at the second Fashion Gala against Childhood Cancer
And this Saturday in Vigo, we were taking part in another solidarity event, the second Fashion Gala against Childhood Cancer. We have prepared a larger parade for this charity event, consisting of fifteen wonderful looks. The idea is to raise money for research and the treatment of childhood cancer.